Art workshop with digital collage
20/10/2017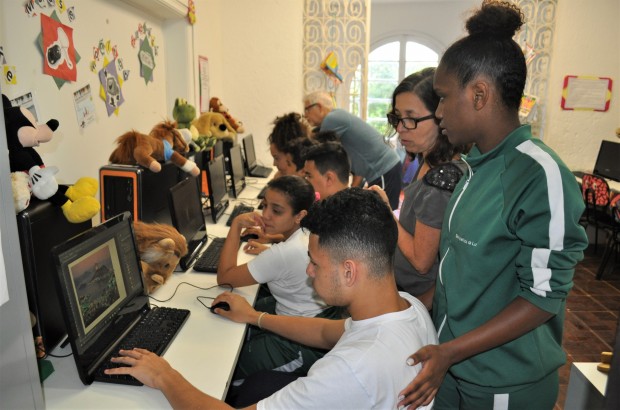 Artists Dalton Romão and Sonia Gil, participants of the Digital Exhibition – at Solar Art Gallery – came to Solar on October 20 to teach an art workshop with digital collage for eight students of Elementary School II.
The workshop proposed a creative activity using Photoshop (image editing software) with the purpose of expanding the expressive and reflective possibilities in the process of image construction, using new tools.
The students, in pairs, had contact with different ways of expressing their ideas, expanding their communicative capacities and discovering their own form of expression. They learned basic techniques of image editing, image collection on the internet, and how to re-signify the elements present in different images, cutting pieces and regrouping. Each one has constructed a new image related to his personality and his expressiveness.
The works produced in this workshop will be used at Solar Art Gallery next exhibition.
Artist students:
Ariane Nunes Martis – 8th year
Beatriz Souza – 7th year
Caio Marques da Silva – 7th year
Erik Alexandre Pereira Silva – 8th year
Erik Ribeiro Lima – 8th year
Lucas Santos Oliveira – 8th year
Luna Brena Amaro da Silva – 9th year
Ueslei Nascimento da Silva – 7th year