The farewell of the Boy of Light (Menino de Luz), Ueslei Bahiano
14/12/2018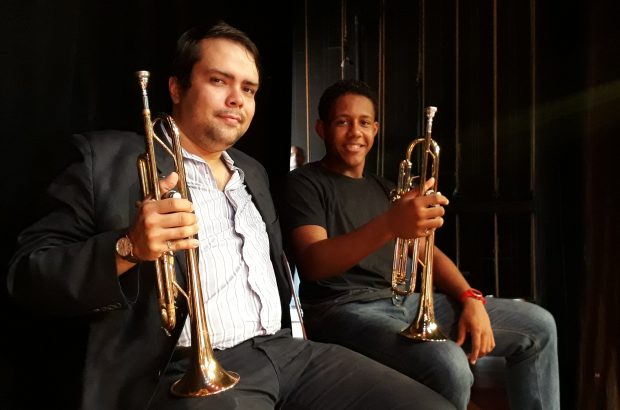 Whoever looks at this boy with a wide smile, holding his trumpet, have no idea about the story behind it. His connection with music has begun in Bahia, where he had his first contact with the instrument through a street trumpeter. The dream of being a football player now conflicted with his new passion for music.
Some behavior issues led him to move out from Bahia to Rio de Janeiro and then its how his begin his history at Solar Meninos de Luz.
The music still resonated loudly, and, through a little help of destiny, he found the Fanfarra project, beginning there, his first steps into music through a bugle. His dedication soon caught the attention of Professor Alex, who, knowing about his desire to play Trumpet, donates his old instrument and begins to teach it.
In the meantime the Solar Meninos de Luz Orchestra starts its first edition, and the opportunity to study trumpet with a professional overview, was getting closer and closer. Now, with a better instrument in his hands, Ueslei reciprocates such generosity and give to a friend the trumpet someone has once given to him on his earliest lessons.
Music has begun to be a great part of his life. While his friends were playing soccer, Ueslei was rehearsing on Saturdays. His teachers Ana Laura and Gabriel became a reference, and the times of "trouble boy" were behind.
The music involved him in such a way that it became the subject of his final pedagogical project at Solar. He had to find a project wich could promote some improvement for his community and then, he came up with a music school, with instruments developed from recyclable materials, and dreams about, one day, set up his own orchestra.
And that boy, who once was a troublemaker, today makes his first instruments in PVC. A Tubofone and a Claricano were demonstrated during the presentation of his project to the evaluating teachers, with a 100 score!
Uéslei says goodbye to Solar Meninos de Luz. He will return home with everything he has learned and accumulated in this brief period he spent with us, and a gift won by merit: our teacher Marco Aurélio gets a place in the extension project, with the possibility of a scholarship, so that he can continue his studies of music at the Federal University of Bahia.
There still much to work on, but it all began when he embraced the opportunity to study and participate in our orchestra, choosing music as the path to start his inner transformation.
We were happy and proud to have participated in this process. Now we are rooting for him find his way into being the golden boy he can be. Growing up and serving as an example for so many other kids with the same life story
May he be a Child of Light (Menino de Luz).