Tribute to Solar volunteers
01/02/2018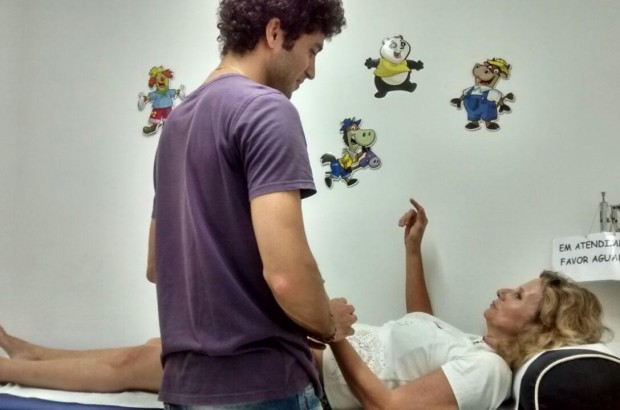 Continuing the tribute that Solar will do to their dear and indispensable volunteers, in February, our honored friend is Dr. Matheus Dias Almeida. He works with acupuncture and herbal medicine at Solar Wellness Center.
Dr. Matheus agreed to answer some questions:
Full name?
My name is Matheus Dias Almeida.
How did you get to know Solar?
I met Solar through my friend Michel, who previously occupied the same place that I now occupy at Solar. He is a dedicated doctor who follows the studies of Chinese Medicine and Homeopathy. At some point we met, I going to work and he coming back from a shift, and I said that I was willing to do volunteer work. As nothing is by chance, he told me that he was offering acupuncture at Solar, but that unfortunately he could not stay. Anyway, he introduced me to Solar and Solange. We had a brief conversation and we combined my stay, which lasts until today.
How long have you volunteered at Solar?
For a little more than 4 years; I started my work in July 2013.
In what areas do you work?
I work attending with Chinese medicine, basically acupuncture and herbal medicine.
How do you feel about working at Solar?
I feel welcomed by Solar and by all the people I meet on the days I go to the environment. Since the coffee, which with great affection is placed at my door at medical care days, until the receptivity of people with the treatment, and especially the commitment with the therapeutics.
What do you think about Solar's work?
I consider Solar a support area of ​​great importance to the community (community in the broad sense – from Pavão-Pavãozinho site to the city of Rio). When I think of people helping people, it creates a loop of good deeds and transformations. It is all we need, transformations of realities and perspectives.
Do you think Solar influences people's lives? In what way?
The previous answer already answers this. Yes, Solar influences people's lives. We see a lot of "influencers" today, but with all respect, it sounds funny to me a lot of people following youtubers and bloggers who constantly talk about each other's lives, be it celebrity or not. I think there must be more and more influencers who can make people think, look at their lives, and create insight into their actions. This will make each one help more. After all, we are individuals living in community. We depend on each other.
What is Solar characteristic that you most appreciate?
I would not know exactly which characteristic I appreciate the most, because my experience in Solar is not so engaged, I fulfill my role as a health professional. I arrive at the clinic, I answer every one who needs my support, I listen, I direct, I pull from here, I mumble from there, I make one or another sermon, I hug and I follow my life. I do not consider myself a guy engaged in social elements or with Solar itself, I try to fulfill my role as an individual and a person from society bringing out my best.
Is there a nice story between you and the students?
Hum… thinking about it, I will briefly tell the result of an office patient, that is, it is not specific to Solar, but represents the therapeutic work. I attended a lady with her seventy years of life with multiple complaints, from her physical pain to emotional discomfort about her life story. Her biggest talk was that she could never change because she was old. After a while, the therapeutic process is advancing and at a certain moment, she is already feeling better of her ills, concludes with the astonished face how much she changed, and this was incredible for her because she said: "Matheus I am old and I changed, I never thought that would happen."
What I want to bring in this brief tale of a real picture is that changes make us see life in a different way, perhaps less nebulous and more sunny. There are multiple tragedies in our midst, but there are also countless magnificent experiences. Think about it, what do we look at frequently? In Chinese terms, being in good health is being active in choices, desires, free from anguish and full of hope, with healthy body and good head. Now, if all this goes well, we have finally managed and cared for others, have not we? Good people treat others with affection, bitter people treat with bitterness.
Well, I thank from the bottom of my heart for the invitation and for giving up this space to expose my little elocubrations about what it is to be a donor. We donate and finally receive; give good and receive good.
Peace and good!
Dr. Matheus, Solar Meninos de Luz thank you immensely for the time and love dedicated to Solar, its employees and community residents.