The funk community surrendered to Bach and Beethoven.
01/12/2018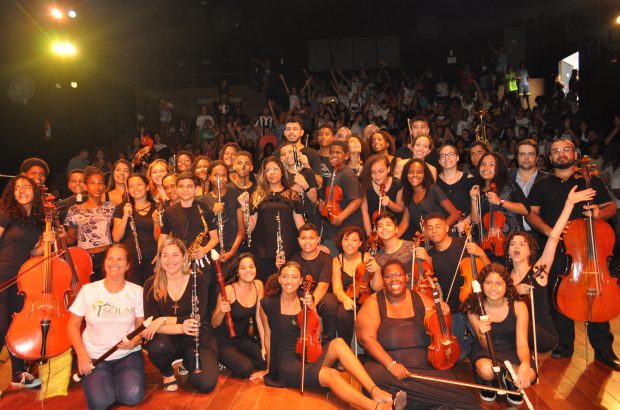 The communities of Pavão Pavãozinho and Cantagalo were presented with a beautiful presentation of the Solar Meninos de Luz Orchestra, on December 01st
Already in its 2nd edition, it is composed of students, employees and residents of the community, who were joined in the passion for music and accepted the challenge of learning to play instruments that, until recently, were unknown to them.
Each rehearsal, each sweat, each individual conquest, translated into notes of a 9th Symphony, which deeply touched everyone present. The funk community, today, surrendered to Bach and Beethoven.
It is the music that goes beyond the fast beats of the radios, the one which brings melodies that surround us in such a way, that lead us to contemplation, and that can change our state of mind.
And was believing in this capacity for transformation through music, that this project was idealized. An old dream of our founder Iolanda Maltaroli that gained a certain sketch of reality when our conductor, Marco Aurelio, sent us his curriculum, joining his dreams to ours.
The implementation came through the Municipal Culture Culture Law, which allowed the sponsorship of Sunset Safety and Sunset Services that enabled the hiring of teachers and the purchase and maintenance of the instruments.